Lots Of Options
The first image that pops into your head when you hear "landscaping" is probably a lush, green lawn with pruned trees and lined with beautiful flowers, but landscaping doesn't just mean grass, flowers, and rocks; landscaping also includes structures like pergolas, fire pits, fireplaces, and outdoor kitchens. These landscaping structures add a contrast to plant life and add usable space to your landscape; changing it from a piece of scenery to an interactive, livable space where you and your guests can congregate and eat, drink, socialize, and enjoy the beauty you've spent so much time and effort creating.
With the right combination of structures, you can add functionality to your landscape for any time of day or night, any season, and any occasion. Imagine having a seamless transition as you step outside from your home, letting you truly live on your landscape and not just look at it. Every structure that we build is designed with your home, needs, and usable space in mind to integrate every aspect into one cohesive creation.
Pergolas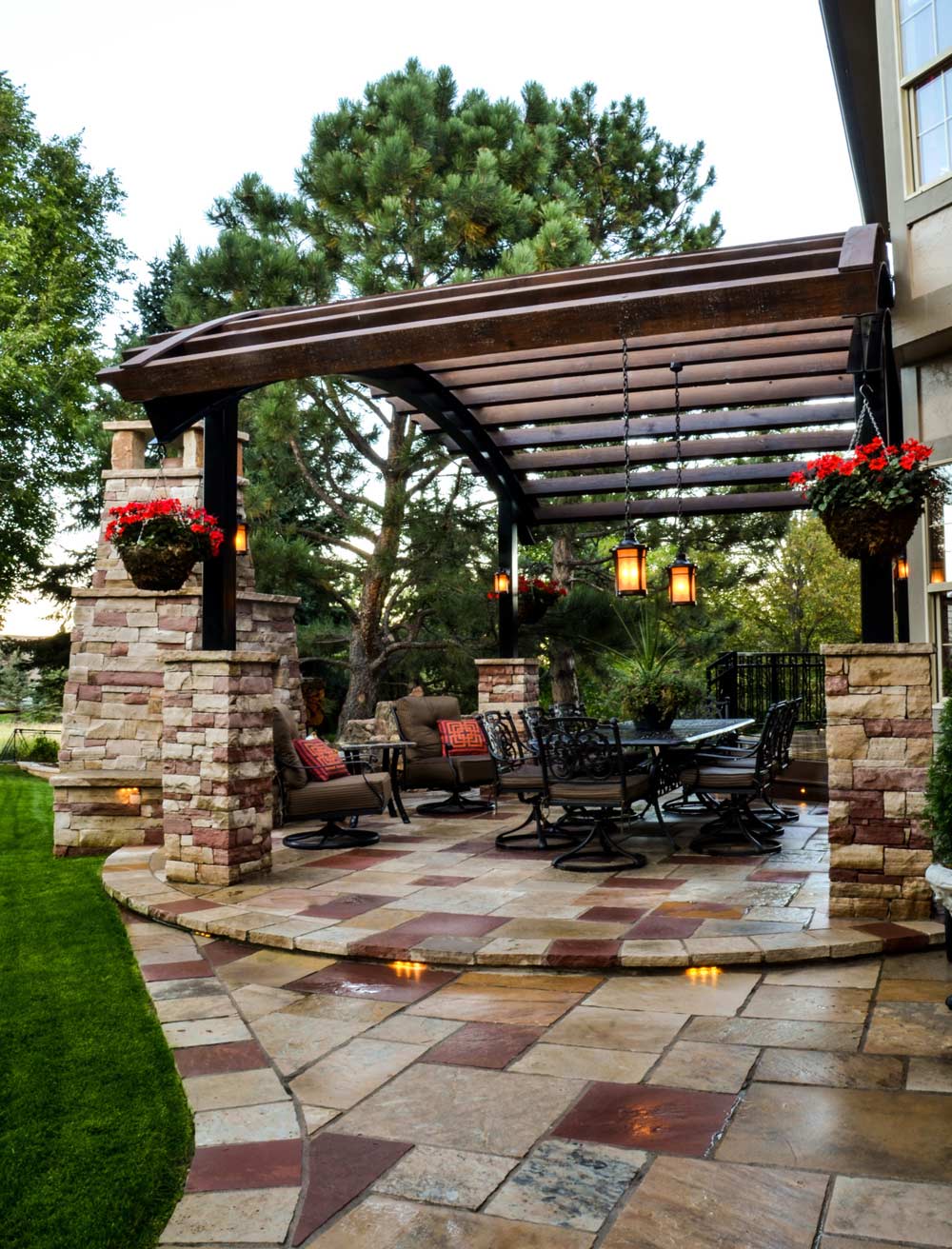 Without walls or a solid roof, a pergola won't protect you from wind, rain, or snow, and it only provides minimal shielding from the sun, so why bother building one? The structure is best used to help define an outdoor area without constricting it, creating a blend of indoor form with outdoor wilderness. Pergolas were a staple of Italian Renaissance gardens, offering a cover over walkways or a post for climbing plants like grapevines to climb and cling to. They're also great for growing plants which need limited sunlight or prefer the shade. The framework isn't just good for plants, though, it's also a perfect anchor to attach landscape lighting to and further transform your space, letting you use it at night for entertaining, eating dinner, or just sitting and enjoying the weather.
With a surprising range of design options, they also give you a chance to add an extra touch of personality to your home and landscape. We use sturdy lumber for our pergolas which can be shaped, stained, and illuminated to your own tastes to match the style of your home, landscape, and personality. Take a look at some of our past work if you're looking for inspiration.
Fire Pits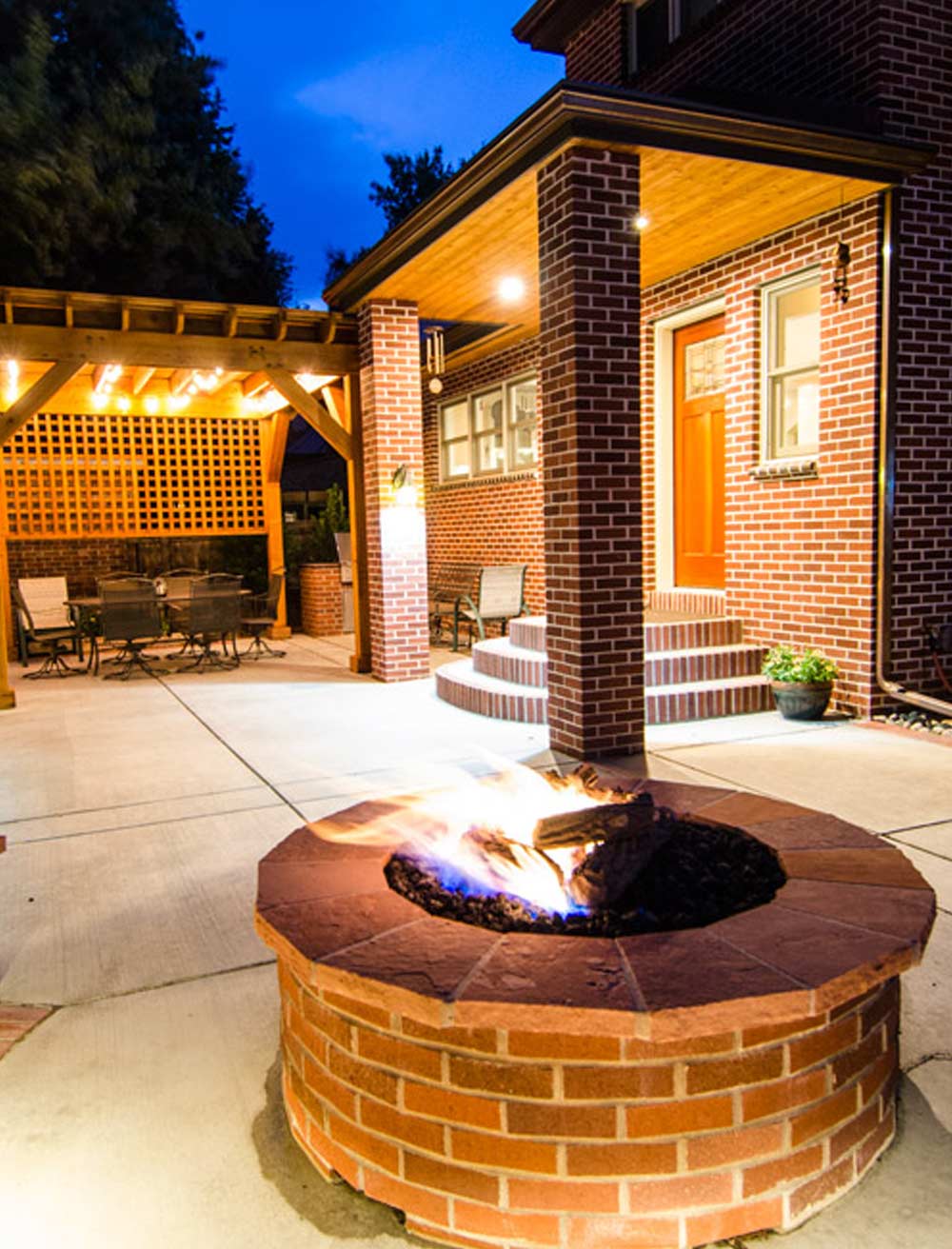 Anybody who's ever spent a night camping knows that there's something truly special about gathering around a fire, watching the flames dance, surrounded by your friends and family, as the sky fades to black. Whether you're toasting marshmallows, enjoying the heat, or just getting lost in conversation, fire pits have a unique way of bringing people together. Wood-burning fire pits may be banned in Denver, but we can still bring that wonderful experience to your home with a gas fire pit.
All of our fire pits are designed on and built to your specifications, tailor-made for your needs and with your landscape in mind. Because gas fire pits are safer than wood-burning pits, it even gives us extra flexibility to place it wherever you want. We've built fire pits on patios, on porches, and even freestanding pits as part of a landscape.
Fire Places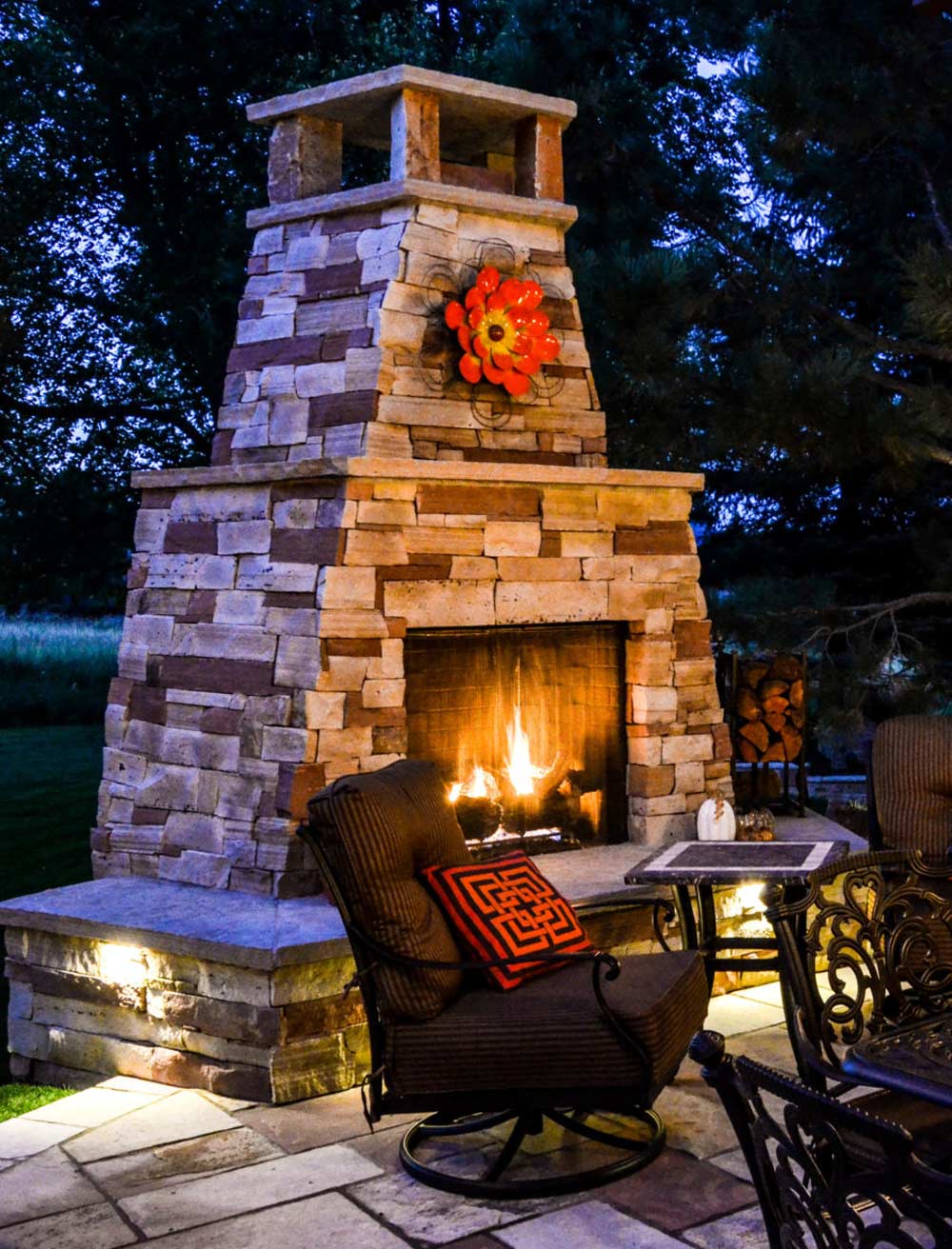 Unlike a fire pit, a fireplace is an enclosed structure, complete with a chimney and generally either a glass door or mesh screen. A full fireplace helps blend the cozy comforts of your living room or parlor with the beauty and fresh air of your landscape. A mantel adds the finishing touch, letting you prominently display decorations to match your aesthetic.
All of our fireplaces are made of either stone or brick and built to your specifications. It can be either freestanding, often in a garden or patio, or attached to your house, depending on the look you want to achieve. Whatever you choose, your outdoor fireplace will be the perfect spot to relax and read a good book by firelight, sip on a cool drink after a long day, or gather the family around for a relaxing evening.
Outdoor Kitchens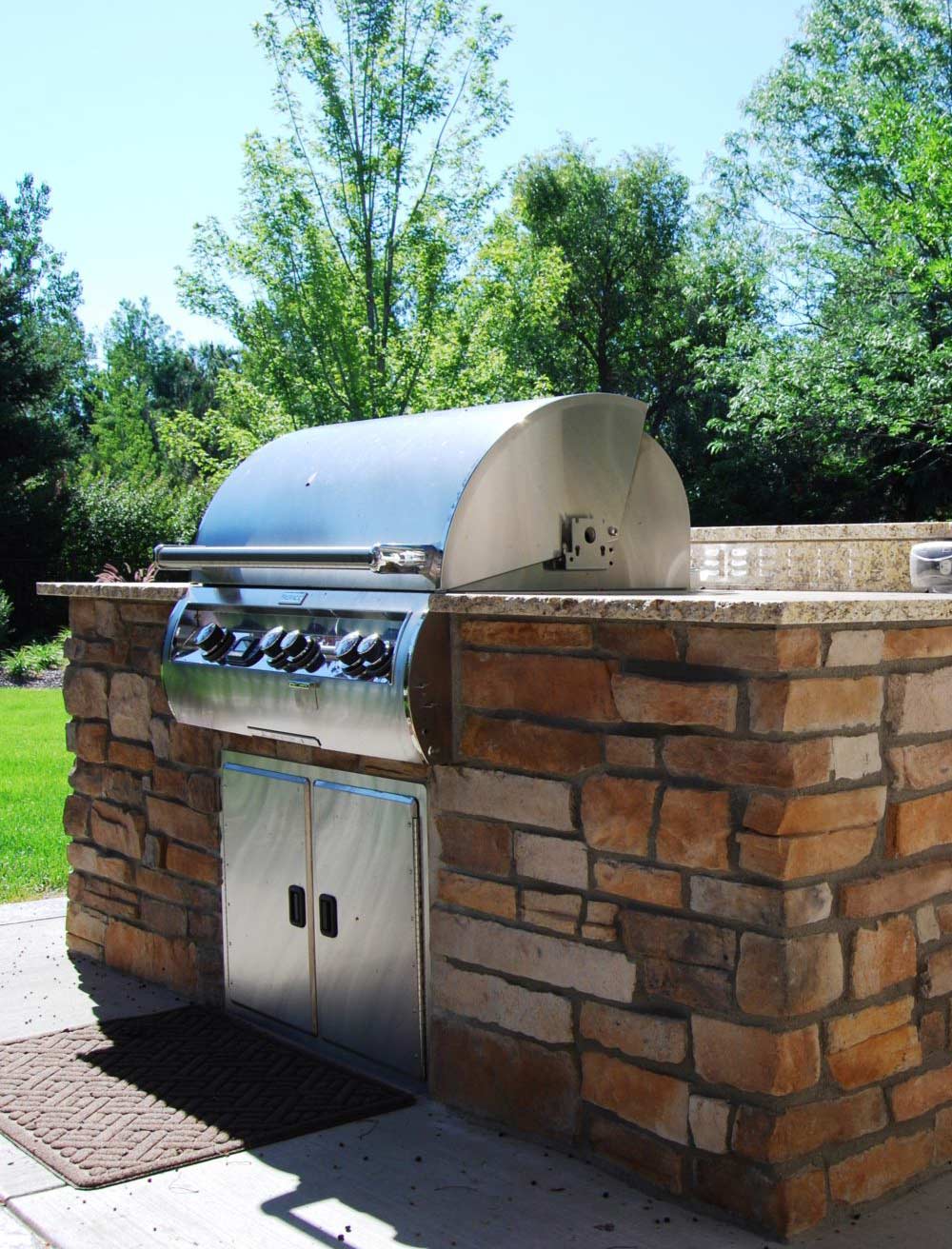 Kitchens have always been a focal point in a home: a place where people gather to eat, drink, and talk. Even when you're barbecuing, the grill has a certain magnetism to it, drawing everybody in. It's no mystery why, either; the smell of great food spreads quickly and is irresistible to anyone nearby. With perfect summer evenings for barbecuing in Colorado, it's no wonder that more and more people are deciding to combine the best of both worlds and move their cooking areas outdoors, adding the finer nuances of an indoor kitchen to the allure of a grill.
Our outdoor kitchens feature stainless steel grills embedded into a stone or brick enclosure. This kind of construction is perfectly suited to withstand the rain, snow, and freezing temperatures we face during the winter in Colorado. Our design process allows you to easily add extra lighting, food prep areas, seating, and even wine storage. If you can think of it, we'll work with you to include it in your final design.